Find Kia Optima Midsize Sedans for Sale in Lubbock TX
Find Kia Optima Midsize Sedans for Sale in Lubbock TX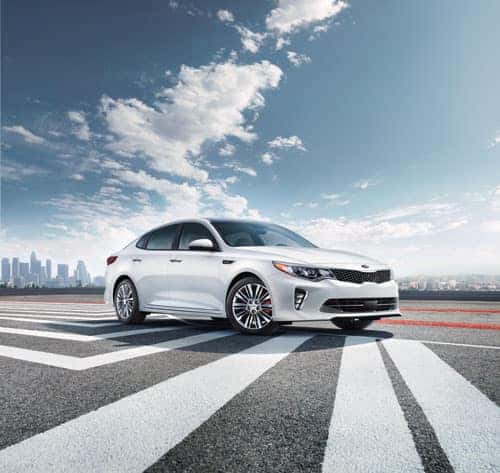 Where Can I Find Kia Optima Sedans for Sale Near Me?
Are you asking yourself, 'where can I find new & used Kia Optima Sedans for sale near me?' Gene Messer Kia offers an exceptional selection of new, used & certified pre-owned Kia Optima Midsize Sedans for you to browse and test drive in Lubbock, TX.
WHY PICK THE KIA OPTIMA?
A sedan is a sedan is a sedan, right? The Optima is Kia's remarkable response to that sentiment. This mid-size family sedan isn't for the one-size-fits-all herd. Sleek style meets spectacular technological know-how to put the competition's cookie-cutter sensibilities completely in every Optima owner's rear-view mirror.
POWER OF CHOICE
Kia's got a surprise for you if you like options. With five trim levels, three powertrain, and two transmission options to select from, you've got an exciting automotive sandbox to play in. After you make your pick, the only choice you'll have left will be what to do with the money your Optima will save you at the gas station.
CURB ENTHUSIASM
The Optima's manufacturing team broke the mold with their modern exterior design. Once the Optima is through turning heads and catching eyes, the interior design presents drivers with a wonderland of technological and spatial delights tailor-made for people who want their automotive comfort and convenience in style.
HIGH MARKS FOR SAFETY
The Optima has been racking up the decorations for its standard safety features. The IIHS awarded the Optima its much desired 'Top Safety Pick+' and car specialists have raved about the Optima's exceptional collection of safety and security technology. When it comes to automobile safety, the Optima is Kia's crown jewel.
Test Drive a Kia Optima Today
Stop by Gene Messer Kia today to test drive a new, used, or Kia certified pre-owned Midsize Sedan in Lubbock, TX. Our knowledgeable team of Kia specialists are standing by to help you find the perfect vehicle. Browse our online inventory, drop by, or call (844) 402-3025 now to learn more. We look forward to serving you!
Cars Aug 6, 2020
They picked up my vehicle from my work and brought it back after changing the oil in it. It was very convenient for me. They were courteous and kind.
Cars Aug 5, 2020
Got my first oil and filter change after buying my car there last fall. Low mileage this time because of no travel during COVID 19. Enjoyed my visit and meeting Jesse, who managing service that day.
Cars Aug 5, 2020
The service agents are always helpful and the vehicle service is always fast. I purchased my car here and have been going here for 1.5 years and have had no problems.
Google Aug 4, 2020
Excellent service and they are professional and honest. That is a quality I admire. Thanks J
Cars Aug 3, 2020
I had a headrest installed and my car was ready within the hour. I have no complaints, the two men in service were friendly and helpful.