Find Kia Sorento Midsize Crossover SUVs for Sale in Lubbock TX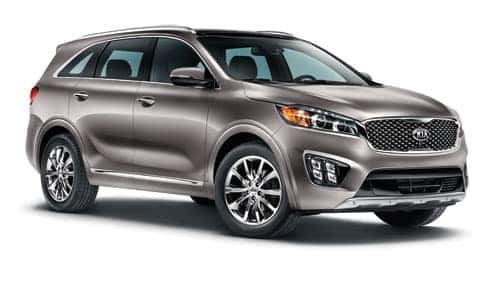 Where Can I Find Kia Sorento SUVs for Sale Near Me?
Are you asking yourself, 'where can I find new & used Kia Sorento SUVs for sale near me?' Gene Messer Kia proudly offers an exceptional selection of new, used & certified pre-owned Kia Sorento Midsize Crossover SUVs for you to browse and test drive in Lubbock, TX.
WHY PICK THE KIA SORENTO?
The chase for supremacy in the midsize SUV market is a fiery one and Kia's entry is swiftly rolling to the captain of the group. Offering a comfortable ride for five or seven passengers is just the start of Sorento's offerings. In fact, with the Sorento's variety of packages and features, Kia's hot-selling family hauler could be better labelled as the 'fun-sized' SUV.
SPICE IS NICE
If variety is the spice of life, then the Sorento is pouring with flavor. With seven trim packages, three powertrain versions, and an exceptional collection of infotainment and convenience options, the Sorento is fully stocked with enough spice to season your life for eras to come.
PEP WHEN YOU STEP
If you're veering towards a more economic drive, Kia's 2.4-liter 4-cylinder will move you right past the gas pumps with its EPA rated 28 MPG. Need more juice to let loose on the streets? Put your foot into the Sorento's 290 HP 3.3-liter V6 and make short work of your family's next adventure.
PUTTING 'U' IN 'SECURITY'
Kia has put their mouths where your safety and security is by making every single piece of their innovative automotive safety tech the standard safety features in every single Kia Sorento. When you're this dedicated to driver and passenger safety, you shift from setting standards to becoming the standard.
Test Drive a Kia Sorento Today
Stop by Gene Messer Kia today to test drive a new, used, or Kia certified pre-owned Midsize Crossover SUV in Lubbock, TX. Our team of Kia professionals are ready to help you find the perfect vehicle. Search our stock online, visit our showroom, or call (844) 402-3025 to learn more. We look forward to serving you soon!
Great customer service, performed 22,000 mile routine service. Quick, fast and easy. I was able to set my appointment up online. I pointed out that I had a tire that was giving me a problem, they provide solutions.
Perfect service and care. Awesome staff. Excellent all away around. Love my new car. No pushy sales person and very informative to all my questions.
The service I received today was the best ever, the staff at Kia are very friendly and make you feel welcomed. I would recommend them.
Very professional....facility very clean and customer friendly....snacks readily available....repairs done at the price quoted and on time....good coffee....helpful staff....paperwork and recommendations for future service very helpful