Find Kia Soul Subcompact Crossover SUVs for Sale in Lubbock TX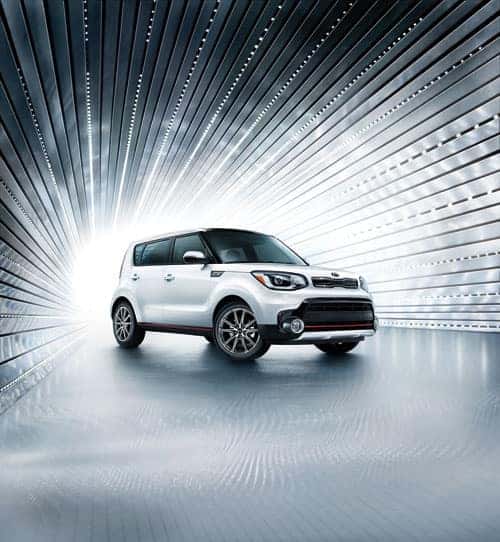 Where Can I Find Kia Soul SUVs for Sale Near Me?
Are you asking yourself, 'where can I find new & used Kia Soul SUVs for sale near me?' Gene Messer Kia offers an exceptional selection of new, used & certified pre-owned Kia Soul Subcompact Crossover SUVs for you to browse and test drive in Lubbock, TX.
WHY CHOOSE THE KIA SOUL?
In case a subcompact small SUV is in your crosshairs, the Kia Soul is on the 'must-drive' short list. Inside as well as out, Kia's peppy SUV is packed with bells, whistles, and more than a few marvels. However don't take our word for it. All it takes is a test drive to fall in love with Kia's Soul.
PONY EXPRESS
Looking at the Soul's powertrain specifications on paper may not raise many eyebrows, but once you're behind the wheel, the 1.6-liter 4-cylinder will certainly make a lot more than a wonderful impression. Take Kia's turbocharged model with the 7-speed dual-clutch auto transmission for a spin and your eyebrows won't be the only thing that's raised.
MOBILE HOME
For the technophile, Kia has filled the Soul with all the high-tech wizardry modern-day drivers require. Hands-free Bluetooth connectivity, cutting edge touchscreen infotainment technology, rear camera display and more easily transform the Soul into your home away from home.
THE SOUL OF SAFETY
One look at the safety specifications on the Soul validates Kia's dedication to motor vehicle safety. Bumper to bumper, the Soul is packed with safety functions from a complete set of innovative airbag technological innovation to automobile stabilization systems, tire pressure monitors and more. When it comes to safety, owning a Kia is incredibly good for your soul.
Test Drive a Kia Soul Today
Stop by Gene Messer Kia today to test drive a new, used, or Kia certified pre-owned Subcompact Crossover SUV in Lubbock, TX. Our knowledgeable team of Kia specialists are standing by to help you find the perfect vehicle. View our inventory online, stop in, or call (844) 402-3025 today to learn more. We look forward to serving you!
Find New & Used Kia Soul For Sale Near Me – Lubbock TX 79407
The buying process was great! I knew exactly what I wanted and they were able to work with me and get me there. I've seen other comment about the lack of communication and can completely understand this. Most of my questions weren't answered fully and I had to really dig to get them answers. There was also miscommunication between certain promises. I was told to take my car back the next day since they were closed by the time my paperwork was completed, so my new car could be detailed and they would install the floor mats. They ...
After hunting for a new place to get my oil changed, I'm glad I decided to go with Gene Messer Kia. It was reasonably priced and they did a great job! Definitely recommend!
Kudos to Gene Messer Kia for having knowledgeable and friendly sales staff. I truly believe a business is only as good as the people representing it. This dealership got it right!
The service was fast and the people were very nice. Thank you so much for your kind attention. I would recommend them to anyone. Thanks